Hey guys just wondering how will the prizes be distributed in the new season?
For the global competition, we are pretty happy with how the season one stream went so we are expecting to do something similar. We may change it up though, its not set in stone yet. You can expect us to have everything locked in a month in advanced, similar to last season.
For now, the prize pool is 5k for the global competition, but we will be giving larger prizes during mid-season competitions.
Will we be doing the style of tournament that was streamed last time?
Probably, I expect it to change slightly since we like to experiment and keep things fresh
Is the top 10 be decided around april 31st? The stream from last time was quite fun, hoping to hang in there until then, the algos constantly improving against each other. rush_v has had some very creative new attacks

rush_v has had some very creative new attacks
Tell me about it.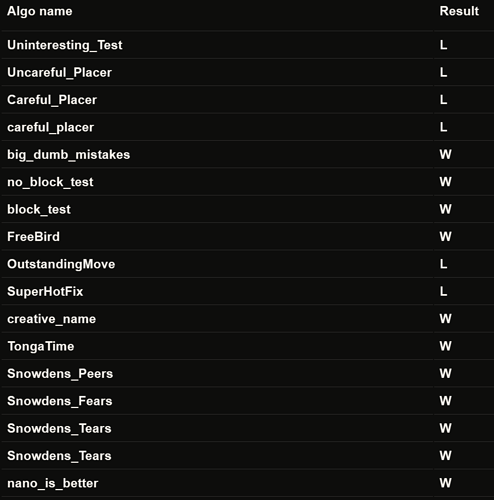 It's taken all week to get a stable victory against the Rush algos, but with the major behavioral bug I just fixed that might all get undone.
Thats why you should make more interesting tests, they win against rush


I liked our little name war, but Im gone for a week on holiday, your chance to take back your spot as first on the leaderboard
Edit:
Oh wait, that picture is from rush's perspektive isnt it, well nevermind
there's some real genius disguised ping cannons in the 1900-2100 range that i lose terribly to on the way up, think i'll create a 'greatest hits' algo of manic ping cannons to throw into the mix. Seems they are not dynamic which is why they are stuck down there but some clever techniques in them.
I did appreciate 'tonga' haha, working on a cakewalk attack, will attempt a rush blocker next if i succeed on that;)
Yeah, I used to make multible different algos, twas is a shortcut for together we are strong, because it uses all my algorithms, mostly demux though, so once youre done you can add them together into one
How many different strategies does your algo have? I've taught my algo on five replays that your algo played and found it chooses two different strategies, so I wonder how many different strategies it can learn from your algo.
Interesting, are you making a machine learning algo or something?
Well I mostly use the demux, then my algo also has the ability to use a maze and a pingcannon.
Theres one emergency very dynamic mode, mostly activates when opponent is a first row emp line like newton. Theres also one that rarely is chosen by my algo, but I think it fires for example against cakewalk.
So that makes 5
Yeah I am trying to

You can watch some of it's matches if you want: 63961. The replays should look a bit familiar to you

So I will check more of your replays to find the others strategies and maybe then it will become better

Oh dear, alright

Ill check it out, cant watch replays yet though (holiday)